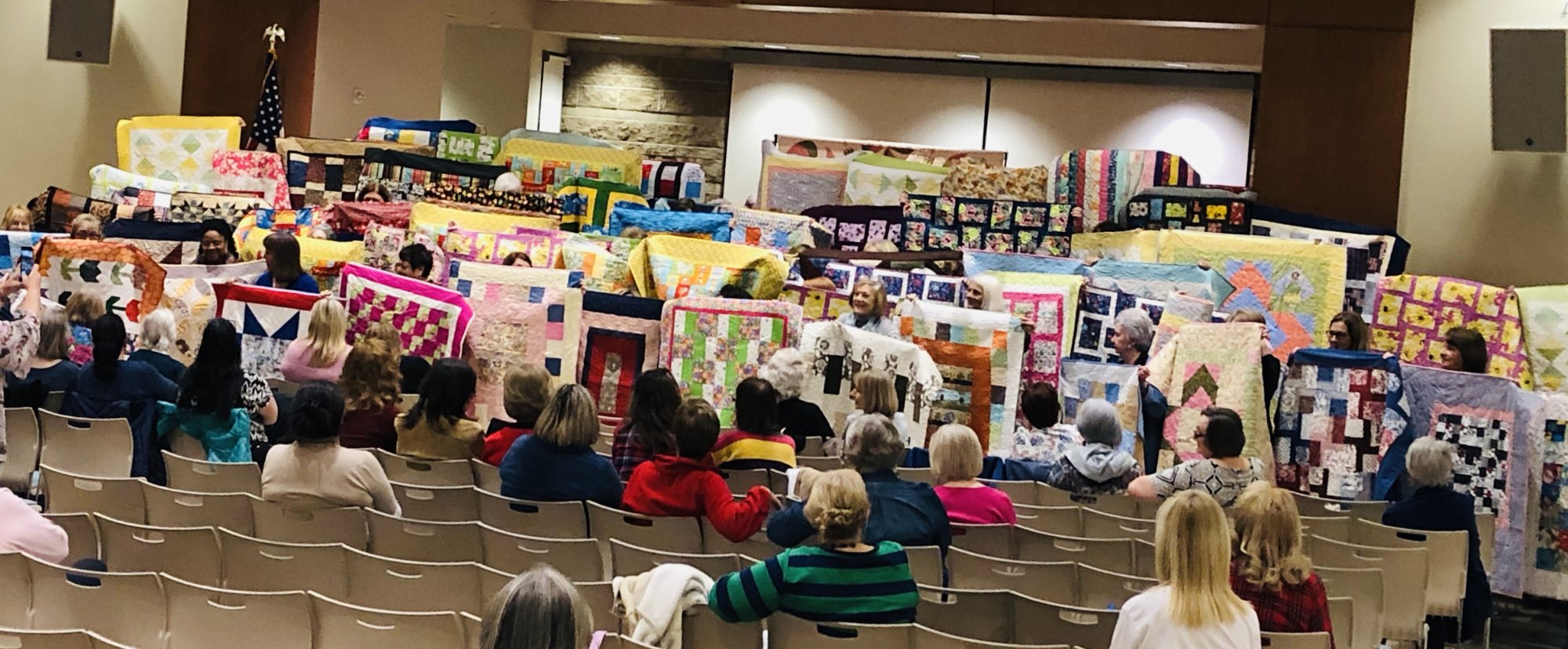 BCQG Philanthropy donates many quilts, baby blankets, pillowcases and other items to our community each month. These items are donated to individuals in need, as well as a wide variety of organizations, including various shelters, child protection groups, Camp Pendleton baby showers, medical programs, etc. Being involved in BCQG's Philanthropy process is fun, easy and very rewarding. A member can be involved by working on any stage of the quilt-making process. One person might cut fabric for a quilt from our HUGE stash of fabric, while another might sew the top, back and binding. Some do the quilting, while others enjoy sewing on the binding. Members are welcome to do any, or all of the steps in making a quilt for Philanthropy. See The Philanthropy Process below.


Philanthropy Sewing Day:
In the past, BCQG has hosted a Philanthropy Sewing Day each month. We are actively assessing our options, and plan to announce a new location for our monthly sew days, beginning in January 2022. Until then, we continue to provide kits, and receive quilts at our monthly guild meetings.
Contacts: For any questions about BCQG's Philanthropy process, or if you would like to be on the mailing list for the Philanthropy Sewing Days, please contact the
Philanthropy Team.

The Philanthropy Process
Many members make and donate quilts they have created especially for Philanthropy, using their own fabric stash. Philanthropy has it's own stash and will share it with all those wanting to use it to make a Philanthropy project. The Philanthropy process for making a quilt from our stash works like this:
Step One:
Fabric comes from donations and careful purchases made from the BCQG Philanthropy budget.
"Kits" for quilts are made using several different, simple patterns.
Each "kit" contains a pattern and fabric for a quilt top, back, and binding.
"Kits" are available at the Philanthropy table during each Guild meeting and at the monthly Philanthropy sewing days. Members may pick up a "kit" to take home. Please sew the top and prepare the binding and back. If you like, you can finish the entire quilt. Please return the finished "kit" or the finished quilt to the Philanthropy table at a Guild meeting or bring it to a Philanthropy sewing day.
Step Two:
*Each returned "kit" is checked to make sure that the back and the binding are assembled and that the back is big enough to be long-armed. See Preparation for Quilting.
*Batting is cut for the quilt and bundled together with the top, back, binding. These bundles can be picked up by members at the Philanthropy table during Guild meetings to take home and quilt, using their long-arms or domestic sewing machines. Please return the finished quilt to the Philanthropy table at a Guild meeting or bring it to a Philanthropy sewing day.
Step Three
*The Philanthropy team makes sure each quilt is bound, labeled and ready for donation to someone in need. All quilts turned in are shown at the Guild meeting each month, unless they have already been donated.
Click here for a helpful binding video: FREE BINDING VIDEO
The Reward:
Many BCQG members give generously of their time, talents and stashes. Our Philanthropy Process is truly amazing and so very rewarding to be a part of.
Quilts produced for Philanthropy as shown in past Beach Cities Quilters Guild Meetings